New! In our friendly kiosk and café (next to the reception) we offer a broad palette of snacks and drinks for hot and chill days, as well as fresh bread rolls (pre-booking on site required).
Café
Take a seat and enjoy your Coffee, Cappuccino (both plus chocolate if you wish),  Latte Macchiato, Espresso, Espresso Macchiato, Chocolate milk sweet or bitter, many sorts of tea and icecream.
Beverages
Mineral water w/o gas, Apple fizz, Cola, Fanta, Sprite, many sorts of "Durstlöscher", Capri-Sonne (fruit drink), Vita-Malz (childrens beer), Red Bull
many sorts of beer from the Krombacher brewery, Aperol Spritz, Wine white and red, Prosecco, Hugo und much more.
Breakfast
All you need for breakfast: fresh rolls daily (pre-booking required), butter, many sorts of cheese, marmelade and sausage, Nutella and honey.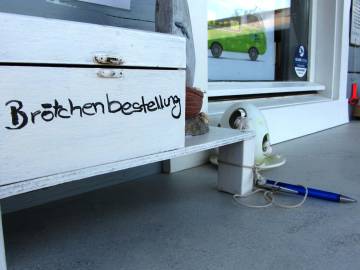 Kiosk opening hours
tue - fri 12am - 2pm and 5pm - 8pm
sat 12am - 10pm
sun 12am - 4pm
Closed on mondays.